Kolomenskoye
Working Hours:
Open: 9.00-21.00 (outdoor area), 10.00-17.30 (exhibition halls)
Closed: MONDAY
Entrance fee:
10 EUR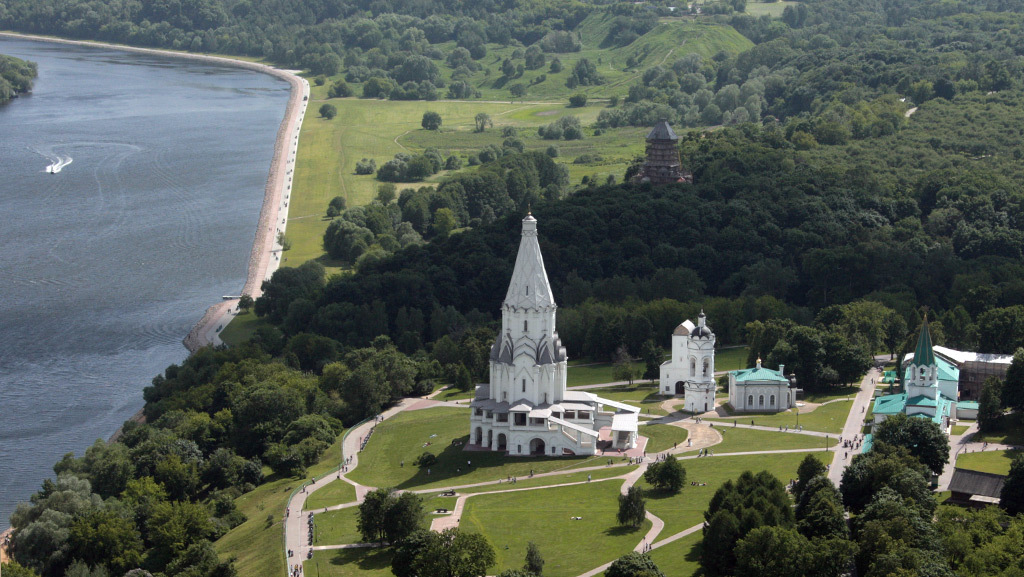 Kolomenskoe is located about 10 kilometers southeast of the Kremlin of Moscow, close to Moscow State University. It covers an area of about 390 hectares and beautifully set in a natural park full of ancient trees.
The first document to have mentioned the village of Kolomenskoe is dated 1339, during the reign of Ivan Kalita. It's name dates from the their teenth century when villagers from the town of Kolomna settled there after fleeing the onslaught of the hordes led by Khan Batu. In the fifteenth century, the property was owned by the Grand Duke of Moscow, and became the royal summer residence.
The earliest building to survive today, is the Church of the Ascension. It was built in 1532 by the Moscow Grand Prince Vasili III in order to give thanks at the birth of his son and heir to the throne, Ivan, who later became Ivan IV, or the terrible. The church represents a new stage in Russian architecture. It is the first tent-roofed church to be built in stone. It also doesn't follow the traditional cruciform domed style. The remarkable tent-roof, which is topped with a small cupola, rises from an octagonal base crowned by small kokoshniki. This base also rises from a larger base formed by a series of tiered kokoshniki. The whole tower is decorated with white-stone ribbing, columns, and a simple diamond pattern on the tent-roof. When it was built, it was the tallest structure in Moscow at the height of 62 meters. The base of the church is surrounded by galleries reached by steps at various levels. Because of the construction, the thickness of the walls had to be 2.5 to 3 meters thick, making the interior very small. Even though it is small, there is a feeling of spaciousness because of it's height of 41 meters. In 1994 UNESCO designated the Church of the Ascension among it's list of historical and cultural monuments. Church of the Ascension .

In 1666 or 1667, Tsar Alexei Mikhailovich ordered the construction of a fantastic wooden summer palace at Kolomenskoe, which was dubbed the eighth wonder of the world. It was built on the site of much earlier buildings using neither saws, nor nails, but only axes, and was considered a marv
el of Russian carpentry.